Edward "Dwight" Fields of Legendary R&B Group
The Manhattans Passes Away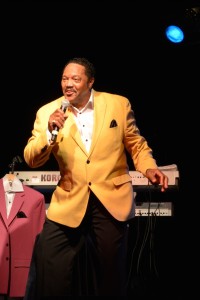 August 29, 2016 – Los Angeles – On Friday, August 26 The Manhattans featuring Gerald Alston suffered another loss with the passing of the newest member, Edward Dwight Fields.
Edward Dwight Fields was born April 16, 1950 in Henderson, North Carolina.
Son of Mattie and the late Johnny Fields, one of the founding members of the Five Blind Boys of Alabama. Dwight and Gerald Alston are first cousins and grew up together. They started singing at a early age and formed a group known as Gerald Alston and the New Imperials on Saturday night and on Sunday The Gospel Jubilee. The group performed all over the Carolinas. After graduation in 1970 the group dissolved.
Dwight went on to attend Halifax Community College in Halifax, Virginia. During that time he started a group known as the Authentics Unlimited and recorded on an independent label Cosmo records. In 1980 he produced two gospel albums the "Harmonizing Four" and "The Five Blind Boys of Alabama." In 1997 he united with his cousin Gerald to work with The Manhattans featuring Gerald Alston and Blue Lovett. After the passing of Winfred "Blue" Lovett, Dwight stepped into the lineup of The Manhattans featuring Gerald Alston.