Lawrence "Weas" Newton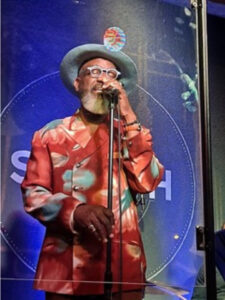 Lawrence was born and raised in the heart of North Philadelphia. His passion for music has been evident since he was a child. Lawrence's talent for singing landed him his first professional paid event at only 15 years old. From there, Lawrence earned the opportunity to perform advertising Jingles for Levin's Furniture store, Pepsi Co, and other local Philadelphia area stores.
As his vocal acumen continued to bloom, he shared the stage with legends such as; Harold Melvin, Patti LaBelle, Grover Washington, Eugene Wilde, Taj Mahal, Pink, Bernie Worrell, Jamaaladeen Tacuma, Melba Moore, Sheryl Lee Ralph, Patti Austin, Urban Guerilla Orchestra aka "UGO". He currently has the pleasure of performing with the Legendary "Manhattans" featuring Gerald Alston.
While more than willing to share the spotlight, Lawrence is a more than capable lead and solo performer. He has served as Band Leader for his own band, "The Soul Revival" for the last 10 years. He's also held sold-out solo shows at Philadelphia's premiere Jazz Club "South". Lawrence was the Lead Vocalist for the Teddy Pendergrass documentary and has also supported all the acts on the Soul Train, Capital City Jazz and Disco Cruises for the last 2 decades.
Ever the renaissance man, Lawrence's interests and blessings aren't limited to the microphone. He's an avid tennis player with over 3 decades of coaching experience. He was the first Black Tennis Coach at Penn Charter School, Director of Tennis for the now defunct Althea Gibson Tennis Center in Philadelphia, and served 13 years as Staff Pro and Community Coordinator for the city's Arthur Ashe Tennis Club in Philadelphia. Currently, Lawrence serves as the Director of Woodford Tennis Club, the oldest Black-owned Tennis Club in the U.S., and is a Certified Tennis Instructor by the USPTR.
Whether it be on the court or on the stage, Lawrence puts his heart and soul into everything he does. He's a true showman who lives to share his gifts with the world.